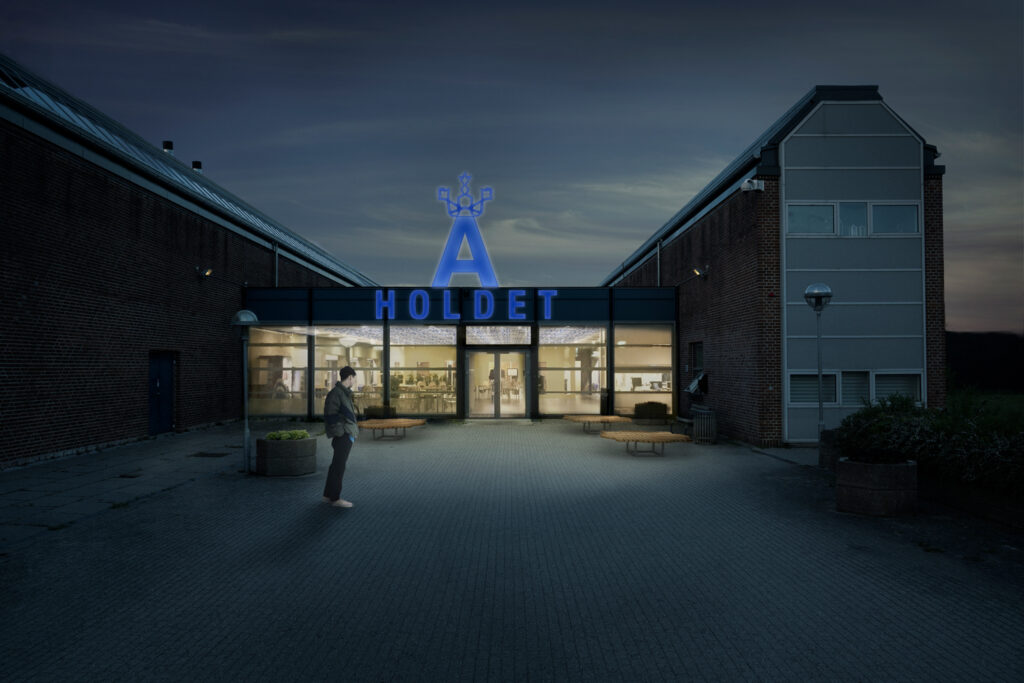 The A-team
2019
Inside ceiling: 250 m2 translucent textile with print and LED. Outside: Sign "A" with crown 380 cm high, sign "TEAM" 100 cm high, steel, aluminium, polycarbonate, LED. Client: Hvidovre Municipality. Architects: Rørbæk & Møller Arkitekter, 1983. Consultant: Umage. Studio Team: Andreas Sommer. Text: Signe Guttormsen. Not realized.
The district of Avedøre represents a positive story that needs to be made visible. The headline of this story should be diversity and community, due to the district's cultivation of connections across communities and dialogue between municipality and citizens. Avedøre is an exemplary district, and the local community can rightly be called an A-team.

A large, blue-lit "A" is placed on the roof above the entrance hall. The "A", equipped with a crown or a trophy, is a recognisable, meaning-forming figure, the first letter of the alphabet, with something unrecognisable and irrational on top. The sculpture exudes pride and confidence, but also kindness and good humour. The figure on top, which is floral and geometrical at the same time, leads the way to the art unfolding indoors in the entrance hall. On the façade underneath the "A", a sign with the word TEAM lights up, using the same LED technique. Together, they form the word "A-TEAM".
In the entrance hall, a 250 m2 large luminous ceiling image is spread out and functions as the lighting source of the room. The motif on the canvas is an abstract pattern with multiple cultural links. The motif draws attention to the centre of the hall, like a carpet on a floor, although here it is hung from the ceiling. The subject of the motif is hand-painted, so that brush strokes and uneven distribution of colour become visible through the digital technique which is used later on when printed onto the canvas. The hand-painted details add an element of something that, due to time and money, is lacking in today's constructions, yet highly missed in our common welfare institutions.
dansk
A-HOLDET
Bydelen Avedøre er en god fortælling som trænger til at blive synliggjort. Mangfoldighed og fællesskab er overskriften på fortællingen, hvor forbindelser på tværs af befolkningsgrupper og dialog mellem kommune og borgere dyrkes. Avedøre er en forbilledlig bydel og lokalsamfundet kan med rette kaldes for et A-hold.

Et stort blåtlysende "A" anbringes på taget af forhallen over indgangen. "A"´et er udstyret med en krone eller en pokal. Det er en genkendelig betydningsdannende figur, det første bogstav i alfabetet, med noget ikke-genkendeligt og irrationelt på toppen. Skulpturen udstråler stolthed og selvsikkerhed, men også imødekommenhed og godt humør. Topfiguren er floral og geometrisk på samme tid, og viser vej til kunsten der udfolder sig indendøre i forhallen. På facaden under "A"´et lyser et skilt i samme LED teknik med ordet HOLDET, sådan at "A – HOLDET" bliver at læse.

I forhallen breder et 250 m2 stort lysende loftsbillede sig ud og udgør den generelle elektriske lyskilde i rummet. Motivet på dugen er et abstrakt mønster med flertydig kulturel forbindelse. Motivet danner en midte i rummet som et tæppe på et gulv, her bare i loftet. Forlægget til motivet håndmales, sådan at penselstrøg og ujævn fordeling af farve vil blive synlig gennem den digitale teknik, der sidenhen anvendes ved print på dug. Den håndgjorte detaljeverden tilfører huset et element at noget der hverken er tid eller råd til i nutidens byggeri, men som i høj grad savnes i vores fælles velfærdsinstitutioner.