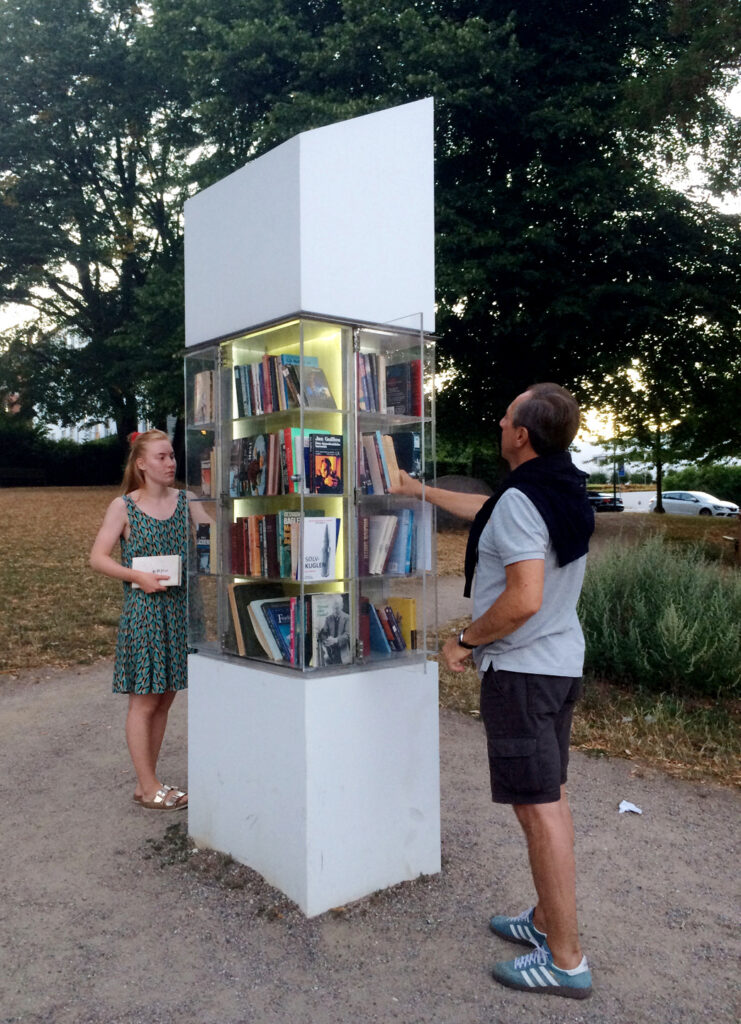 Bogbørsen
2012/22
270 x 60 X 80 cm. Steel, avonite, polycarbonate, aluminium, adhensive film, LED, battery and solar cells.

Client: Gentofte Municipality
Co-operation: Steen Palsbøll
Supported by Gentofte Municipality and the Danish Arts Foundation
Photo Credit: Gentofte Municipality, Signe Guttormsen
Text: Signe Guttormsen and Steen Palsbøll

Open 24 hours a day.
7 locations:
→ Ibstrup Torv
→ on the green area between Ahlmanns Allé and Duntzfelts Allé
→ on the corner of Ordrupvej and Morescovej
→ Dyssegårdsvej in front of Dyssegård School
→ Dan Turélls Plads
→ Jægersborg Allé between Lindegårdsvej and Fredensvej
→ on the parking lot by Vangede Station

BOGBØRSEN (The Book Exchange) is a combination of sculpture, a designed object and a bookcase. The bookcases are placed in residential areas where residents themselves can locally control their use and content. The main objective of the project is to create a non-commercial and user-driven book exchange in the public space that goes beyond the physical conventions of an ordinary library.
The materials and artistic idea support sustainability, recycling and green energy.
Dansk
BOGBØRSEN i Gentofte er en kombination af skulptur, designobjekt og bogskab.
Bogskabene er placeret i boligområder, hvor borgerne lokalt styrer deres brug og indhold. Projektets bærende idé er at skabe et ukommercielt og brugerdrevent bog-byttemarked i det offentlige rum, der rækker ud over det almene biblioteks fysiske konventioner.
Materialevalget og den kunstneriske idé understøtter bæredygtighed, genbrug og grøn energi.