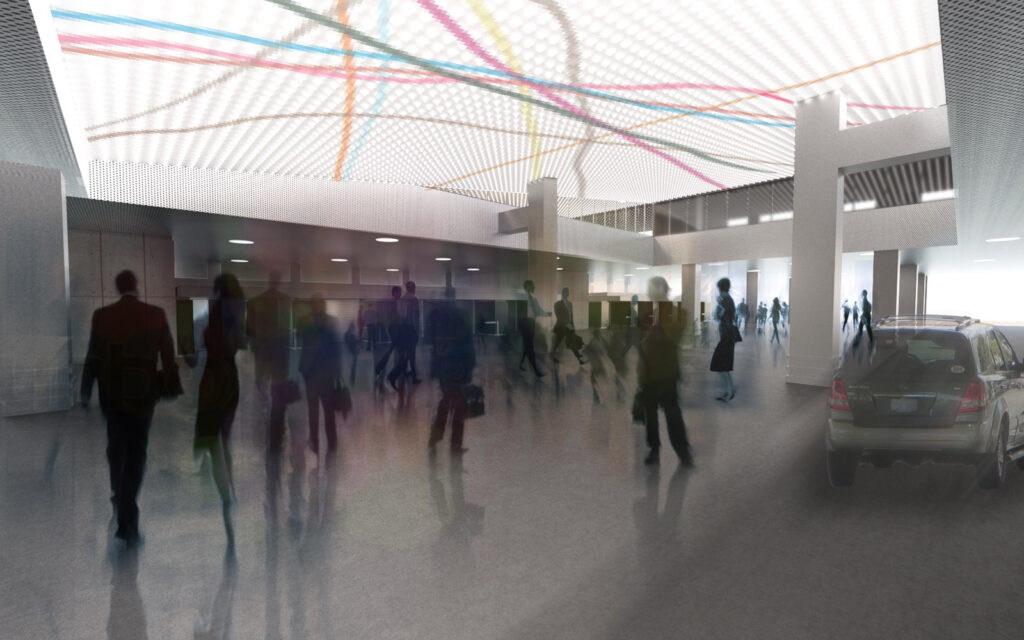 Uptown Downtown
2013
Ceiling 1400×2800 cm, wall 1900×750 cm. Cameras, LED pixel boards , tracking software. Client: Aarhus Municipality. Architects: Schmidt Hammer Lassen Architects. Consultants: Team Profilen. Studio Team: Bertelsen & Scheving Arkitekter. Text: Signe Guttormsen. Not realized.
The two interrelated works take their starting point in the flow of people in the library and citizen's service. The building is like an organism with many different functions and varying tempos.
Downtown consists of several permanently installed cameras recording the visitors as they cross the square. Their patterns of movement will be transformed into abstract colour tracks that are rendered in real time on a ceiling of LEDs above them. The tracks fade when the person that has produced them leaves the square. The tracks are unpredictable and mark both the individual's unique position at the site whilst at the same time participating in a collective whole.
Uptown works in both contrast to and in conjunction with Downtown. The lift tower is a vertical transit space and also a strong axis for orientation on all floors of the building. The vertical up and down movements of the three lifts are rendered as three abstract color traces on the opposing wall covered with LEDs. Together with these movements a live rendering of the Downtown image of the square is displayed. The dynamic image will appear diffused in contrast to the lift's crisp, solid lines.
In the two artworks the guests that move around in the building will leave a clear trace and will be an active collaborator in the art on equal terms. In this, everybody will emphasise that the building is a meeting place for all.
Dansk
De to indbyrdes forbunde værker tager udgangspunkt i den strøm af bevægelse gennem rummene, der kendetegner brugen af bibliotek og borgerservice. Bygningen er som en organisme med mange funktioner og varierende tempi.

Downtown består af flere fast installerede kameraer, der registrerer husets brugere, når de krydser pladsen. Deres bevægelsesmønstre på gadeplan blive transformeret til abstrakte farvespor, der gengives i real time i et loft af LED-dioder over dem. Sporene toner ud, når personerne, der har frembragt dem, forsvinder fra pladsen. Sporene er uforudsigelige og markerer på én gang den enkeltes unikke position i rummet og samtidig deltagelsen i et kollektivt hele.

Uptown er både mod- og medspiller til Downtown. Elevatortårnet overfor betonvæggen er et vertikalt transitrum og samtidig en stærk akse at orientere sig efter på alle etager i bygningen. De tre elevatorers lodrette bevægelse op og ned gengives som tre abstrakte farvebaner på væggen overfor beklædt med LED-lysdioder. Sammen med disse bevægelser vises en direkte gengivelse af Downtown-billedet. Det dynamiske billede vil fremstå diffust og sløret i forhold til elevatorernes klart optrukne linjer i den vertikale tegning.

I de to kunstværker vil folk der færdes i huset således sætte deres tydelige spor, og alle brugere af huset vil aktivt være medskabere af kunsten på lige vilkår. Helt konkret vil brugerne gennem kunsten understrege, at huset er et mødested for alle.